There are hundreds of companies in the market from supermarket giants to niche travel insurance brands all offering cover. So where do you start?
Our very own insurance geek extraordinaire, Eugene Wylde is here to help. He loves insurance so much that he's created his very own ultimate guide to travel insurance.

Find out all there is to know about travel insurance! What's the best policy, what's included, what's not and heaps of saving tips. See for yourself today!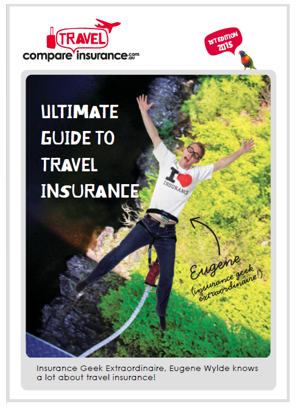 What's inside the ultimate guide?
Find out what's included in a policy - A simple explanation of the cover you'll get.
What's in it for me? Here you'll get 5 very good reasons why to pack travel insurance before heading on holiday.

The steps to buying your policy - Read the 6 things to consider when you're ready to buy.

What is the best? Finding the best policy is easy when you follow our fabtastic tips. There's some extra tips on ways to save too.

Typical exclusions - what's not covered? Learn the ins and outs of your cover. See when you wouldn't be covered in a typical policy including information on unattended items, high risk activities and pre-existing medical conditions.

Find out about claims - When holidays don't go to plan and you find yourself in a sticky situation, you will need to know what is required of you when you make your claim.
Read our ultimate guide to travel insurance now to make sure you've got the best cover for your next holiday.