Planning your gap year
Planning and preparation is key to the success of your gap year getaway. Whilst discovering new destinations and making magical memories should be a priority, it's a good idea to pack the sensible stuff along for the ride too. If you've never travelled overseas organising you trip can be a daunting task. Keep reading for some top tips on budgeting and apps you just shouldn't leave behind!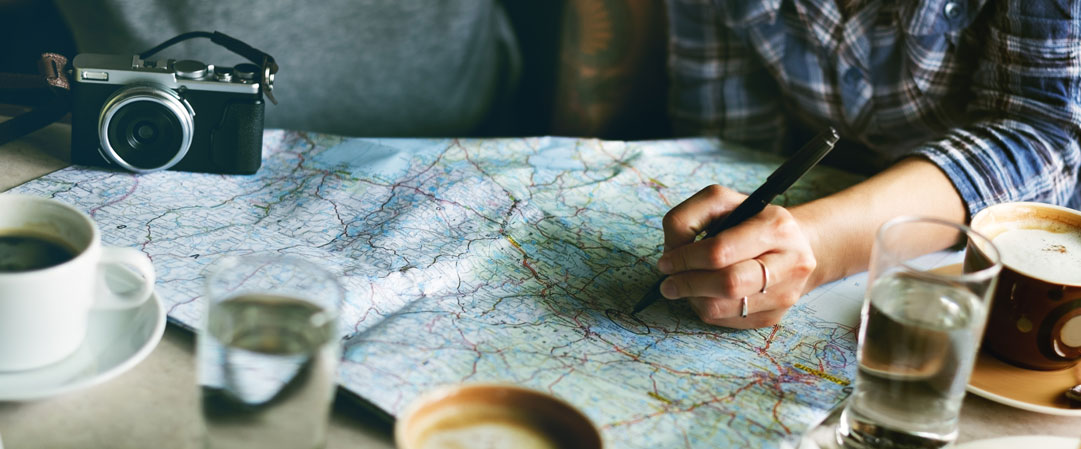 Budgeting tips: Before & during
It's no secret that backpackers are usually travelling on a shoe string budget. When going overseas for such long periods it's important to work out how much money you're going to need and how long it is likely to last. Of course, this vastly depends on where you are travelling to and what you plan to do when you get there. If you're travelling to Asia, you may be able to survive on as little as $30 a day, whereas somewhere like the USA could be more like $80. When planning your trip be sure to read up on your destinations typical accommodation and food costs, and price of planned experiences to understand what you might be forking out.

Travel with friends: Make sure you communicate with your travel buddies about budgets before you go. If you're travelling on a shoestring while your buddy's planning a budget blowout, chances are you'll find yourself doing more squabbling than sightseeing. Pick a travelling companion with a similar budget in mind or make sure you compromise evenly on your activities.

Time to start saving: You're going away for a while, it times to rein in the extravagant splurging and start to save the pennies. All your friends may be going to see Justin Bieber, and you've got a serious case of #fomo but think of all the stories and adventures you'll have on your gap year. When you're saving for your big trip you're going to have to say no to expensive activities in the lead up.

Get a second job: A few extra shifts or a temp role can be the key to getting you that little bit closer to your holiday-fund goals. Whether its watering your neighbour's plants, babysitting for the family next door or pulling pints down your local -every penny helps.

Be strict: Each payday, transfer what you intend to save into a separate account so you can't easily access it and budget your way through the month. #holidaygoals

Holiday spending: Once you've scrimped and saved, it's time to decide the best way to splash your hard-earned cash. Travel cards are a good option as you get to lock in the exchange rate before you go. Although, make sure you have enough money on the card in each currency because if you run out of one, it will take from whatever is left. Travel cards are also great for security as they are not linked to any of your other accounts. If you prefer cash you can get foreign currency from a bank or currency exchange before you go, or use ATM's once you land. You have little risk of being ripped off using an ATM and it allows you to keep track of your account balance. Ideally you don't want to be traveling with huge amounts of money in your pockets for safety reasons. A safer way to deal with this is by using travellers cheques, a good back up option if you're heading somewhere remote without ATMs.
Tools & Apps
These days there seems to be an app for just about everything. Whether you need to book your accommodation, meet-up with travel buddies, share snap chats, or translate the local lingo there is no end to the tools and apps available to the modern traveller.

Airbnb: The worldwide sensation is not only pleasing on the purse strings but if you choose to stay with a friendly host you get to immerse yourself with locals – a fantastic way to really get to know your destination. With millions of listings worldwide you can choose to stay on a boat, in a treehouse or a farm stay. Booking your accommodation on Airbnb has it all. #livelikealocal

Google Translate: If you're visiting more than five countries, we wouldn't blame you for being a little dusty on the local lingo. Luckily Google Translate is there to save the day at all those awkward encounters. Whether you need directions, want to translate a menu or are trying to book accommodation, the Google Translate app for Android and iOS supports more than 90 languages and can translate 37 languages via photo, 32 via voice in "conversation mode", and 27 via real-time video in "augmented reality mode". How's that for convenience.

XE: The go-to site for currency conversions on the web. Very handy when you're visiting multiple countries. When backpacking, it's usually the case that you've just got your head around one denomination when it's time to learn the next. Download XE to help with all those curly currencies.
Timeout: If you're city-hopping the Time Out app is a great directory of ideas of things to do. With coverage from Accra to Amsterdam, Edinburgh to Singapore, the app covers everything from bars, restaurants, attractions and events. The event finder is a particularly cool, meaning you'll never struggle to find the most popular concerts, festivals or one-off happenings going on around you.

Google Maps: Yet another Google product, Maps is widely-regarded as one of the best navigation apps around. Whether you're in Taiwan or Timbuktu you'll find it fairly reliable in offering up local public transportation options. Don't forget and you can also download specific areas for offline use.