Ahoy fellow sailors! Cruise travel is continuing to swell in popularity with no sign of slowing down! From luxury liners to cost-friendly cruisers there's a style for every seafarer. If you're planning a voyage on your next vacation hop on board for some high-seas fun facts…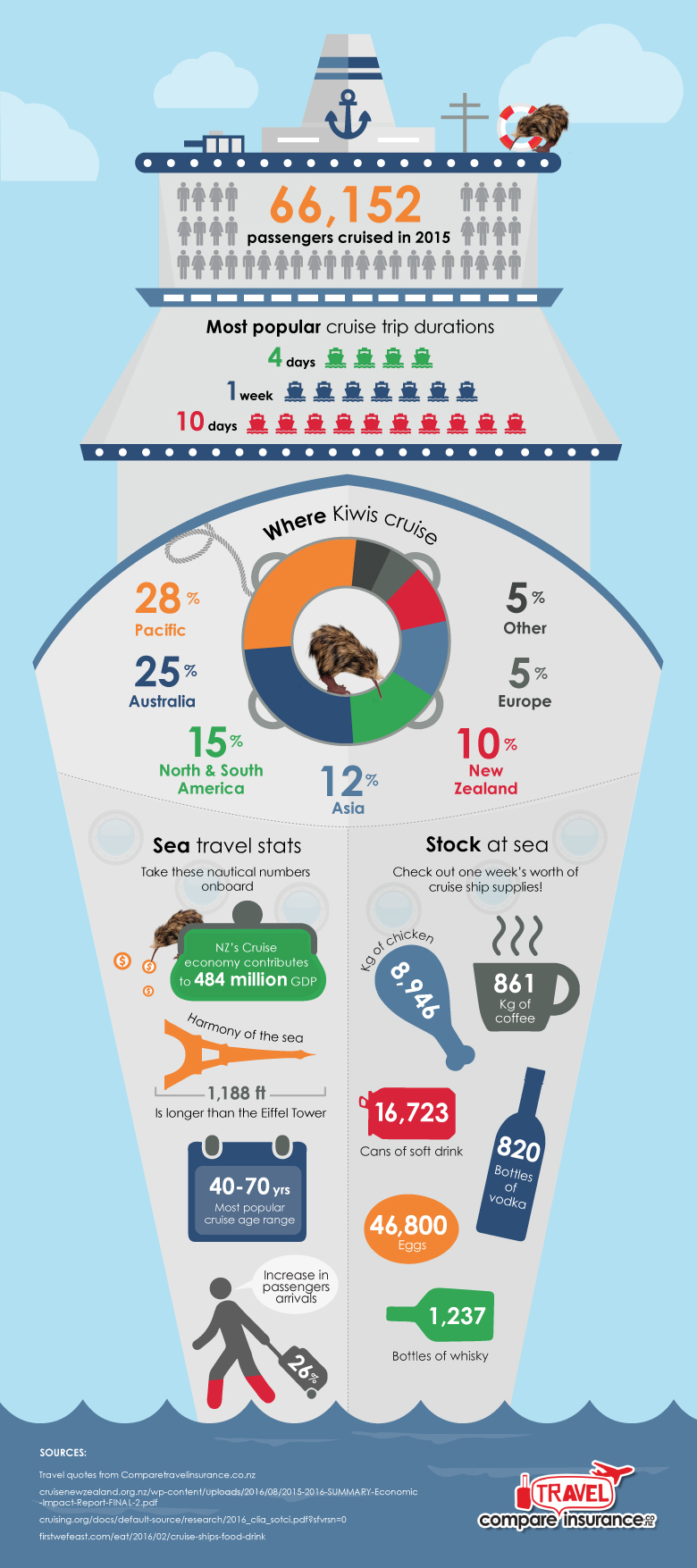 Embed infographic on your site
<p><a href="https://www.comparetravelinsurance.co.nz/cruise-insurance/cruising-by-the-numbers-infographic"> <img src="https://www.comparetravelinsurance.co.nz/assets/upload/cruise-stats.jpg" width="100%" alt="Cruising by the numbers" /></a><br /> Infographic by: <a href="https://www.comparetravelinsurance.com.nz ">Comparetravelinsurance.co.nz</a>
Nautical numbers: stats from life at sea
How many passengers cruised in 2016?
A whopping 233,538 Kiwis sailed the seas last year.

What is the size of the NZ cruise economy?
New Zealand's Cruise economy contributes to 484 million GDP and provides 8,748 jobs. There was a
26% increase in passengers arrivals from 2015-2016.

Where do New Zealander's cruise?
28% Pacific Islands
25% Australia
10% Domestic waters
15% North & South America
12% Asia
5% Europe
5% other

How long do New Zealander's cruise for?
Most common trip durations for cruising holidays tend to be either 4 days, 1 week or 10 day trips.

What is the typical age of a Kiwi cruise passenger?
These days cruises are more popular to a wider range of people. 40-70 years is the most popular age range.

How much do people spend on the average cruise?
A 112 day round the world cruise on the QE2 from New York to Southampton will set you back a whopping $18,300 per person, and if you're in the Queen Grill Suites $76,000pp. $134.72 is the average daily passenger spend on a cruise!

How large are cruise ships?
The Harmony of the seas, the worlds largest cruise ship is 1,188ft in length, longer than the height of the Eiffel Tower and has 16 decks!
How many supplies does it take to stock a ship?
To stock a cruise ship for the week requires 46,800 Eggs, 1,899 pounds of coffee, 820 bottles of Vodka, 10,680 hot dogs, 19,723 pounds of chicken, 16,900 cans of soda, 1000 lightbulbs and 1,237 bottles of Whisky, Scotch and Rum. Oh buoy!